1. Earlier in the week Maraaya's official video for their Eurovision song 'Here For You' was released. Have a look at the video here.
2. This week Eurovision fans were saddened to hear of the death of former winner Jorgen Ingmann. The 89 year old singer won the contest back in 1963 with his song "Dansevise" (Dance Ballad) for Denmark.
3.The filming of this year's postcards began this week. Postcards are the short vignette videos that are played before the singers take to the stage at the Eurovision finals. We were given a sneak peak at Italy, Spain, Macedonia, Latvia and Switzerland's postcards. Check them out here.
4. The latest betting odds show that Sweden's Mans Zelmerlow is now the favourite to pick up the Eurovision crown with his odds shortening significantly this week to just 6/4. Italy are second favourites at 4/1 with Estonia in third at 6/1.
5. The release date for the DVD of the 2015 Eurovision Song Contest has been revealed this week. The DVD which includes all three shows of this year's contest – the Semi-Finals and the Grand Final – will also come with bonus materials and will be released on 22nd of June.
6. Irish runner up this year Kat Mahon performed on the Voice of Ireland this week with her rendition of 'A Whole Lot of Love'. Listen to the performance below and let us know if you think she should have been Ireland's pick for 2015.
7. Cyprus entrant for 2015 Giannis Karagiannis revealed this week in an interview that he takes huge inspiration from Ed Sheeran.
8. He also revealed that he plays guitar and piano and that he is a huge gamer, playing video games online in his spare time.
9. Sia's song 'Chandelier' has proven quite popular amongst our Eurovision contenders this year. Belgium's Loic Nottet and Switzerland's Melanie Renee both covered the songs. Watch Loic Nottet's video for the song here.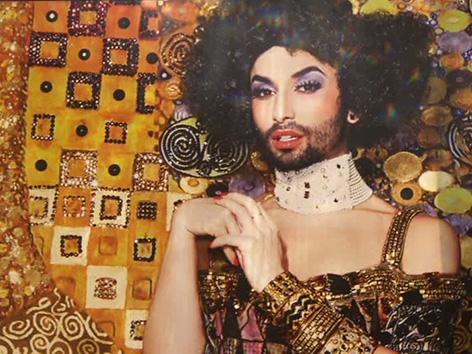 10. This week also saw reigning champion of Eurovision Conchita Wurst replicate a famous piece of art by Gustav Klimt in a photoshoot. The bearded lady became the 'Golden Adele'.
11. We weren't the only ones who got excited at the news of new material from Loreen. Following a performance of new single 'Paperlight' on one of the Melodifestivalen heats a few weeks ago our excitement grew even further. This week saw Loreen release this song as her first single from the album.
12. Former UK Eurovision winner Sandie Shaw shocked fans this week when she revealed that the BBC had snubbed her and prevented her from performing in the line up for the 60th anniversary show later this month.
13. The running order for this year's Semi Finals were revealed this week. Ireland have been given what has been deemed the death slot of second to perform in Semi Final Two. No one has ever qualified from this spot since the semi final process was introduced. You can see the full running order for both semis here.
14. This week we continued our poll to find out what Eurovision songs were in your top 10. Last week Dima Bilan's 'Believe' finished in tenth place and this week saw a double elimination place Eric Saade's 'Popular' in eighth place and 'Dancing Lasha Tumbai' by Verka Serduchka finished in ninth. The poll continues this week with another double elimination to determine the acts in sixth and seventh place. You can vote for your favourites here.
15. In addition to our poll to find out the best Eurovision Song Ever, we will launch a new poll on sunday to find out you top 40 Eurovision Songs for this year. Keep your eyes peeled for that.